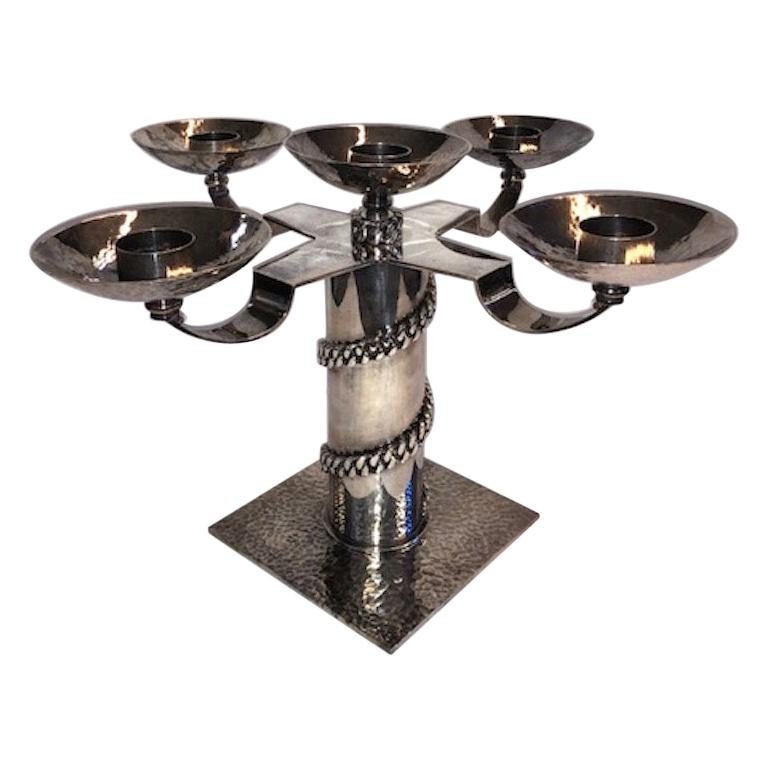 Pair of Art Deco Candle Holders by Jean Despres
$ 25,000.00
Interested in this item? Please feel free to Contact Us for more details.
About Pair of Art Deco Candle Holders by Jean Despres
Pair of Candle Holders done by Jean Despres
Jean Eugene Gilbert Despres  (1889-1980) was born in Avallon, a small town in Burgundy, where his parents had a small shop selling jewelry and gifts. At the age of 16, he went to Paris to apprentice with a friend of his father, who had a jewelry and metal workshop in the Marais. At night, he studied design.  Any spare time was spent in Montmartre, where he met Modigliani, Soutine, DeChirico, Signac, and most important, Georges Braque, who, with Picasso was the founder of Cubism. Despres and Braque became great friends.
Jean Despres was one of the most important French Art Deco designers, designing both metal objects,and extra-ordinary jewelry. 
This simple and elegant pair of candle holders exhibit some  of Despres' favorite design element - reeding, hammered surfaces .They are in silvered metal - Despres seldom made objects in silver. 
France, c. 1930s    18" x 18" x 12"
Sold as a pair