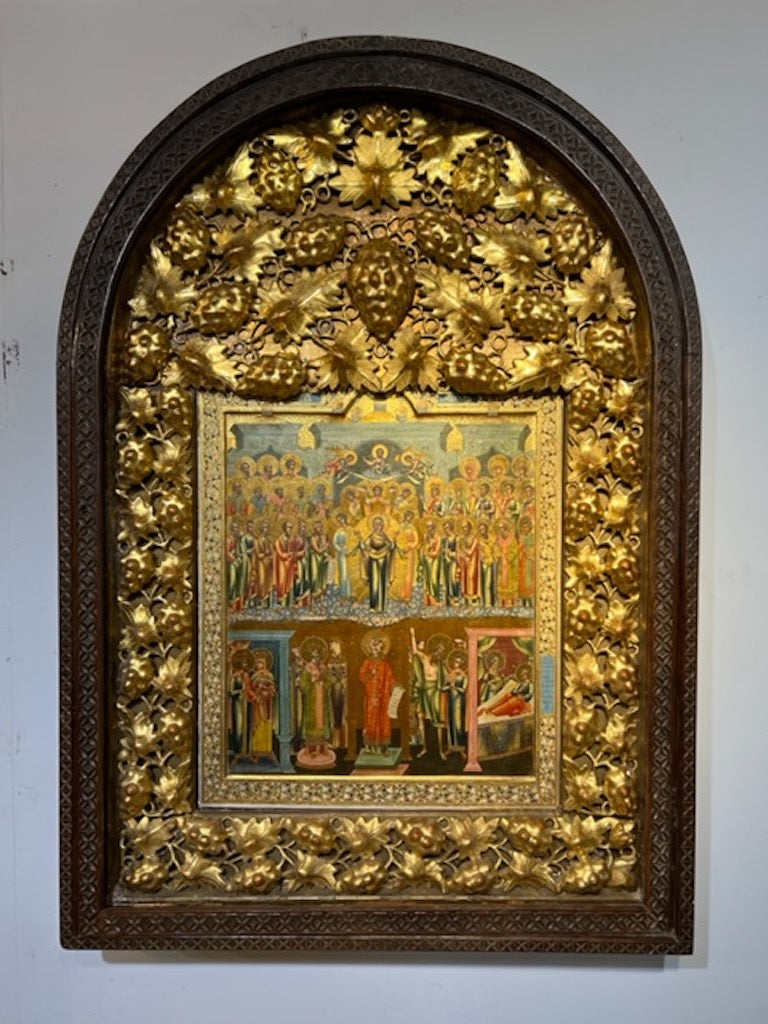 Russian Icon "Saint Mother of God of Pokrov"
$ 25,000.00
Interested in this item? Please feel free to Contact Us for more details.
About Russian Icon "Saint Mother of God of Pokrov"
Russian Icon, oil on wood, with beautiful cloisonné enamel around. Icon is surrounded with floral motifs decorative insert that is placed into the thick carved wooden frame.
Icon is signed verso with dedication to the church that it was made for.
c. 1860s
23.5"h x 20.5"w, overall size is 47.5" x 34"

Wring on the back of the icon says:
"Painted family icon was donated to the church of the name of Pokrova of Virgin Mary with additions of flora and laurel and with 3 saints: Vasiliy the Great, Gregory the Theologian and John Chrysostom by people born at the village of Gubino and later by the merchant Vasiliy Miheev from Saint Petersburg with his wife Tatiana Yakovleva-Miheeva. Done in the memory of completion of this church with stone fence and guard post and with 2 holly gates. It is related today to village merchant Vasiliy Fedorov-Martynov. His parents and relatives are buried and are resting in the ground of churchyard. Fence was started to be build with a permission with his Holly Highness Archbishop of cities of Tver and Kashin, Filofey. It started in 1861 and finished on the 12th day of January of 1863. It was consecrated on 28th day of February. "